Strict quality control system based on acquired ISO9001 certification.
Nishiyama performs strict inspections in each stage of the manufacturing process. Final inspection of products is carefully performed by administering various mechanical tests.
Our company acquired ISO9001 certification to further increase the stability of our products and to continuously improve our systems.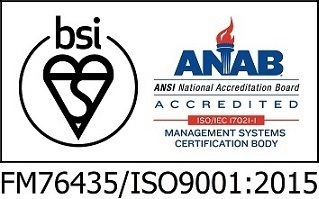 Accrediting authority
ANAB
Registered examining authority
BSI Group Japan K.K.
Acquiring business entity
Entire company including the Head Office, Production Facilities, and Akita Factory
Applicable scope
All business related to the design, development, and manufacturing of precision drawn pipes
Exemptions
There are no exemptions. All required items are satisfied.
Certification number
FM76435
Quality policy
In addition to maintain a top share in our core business of small diameter drawn pipes, we will promote the development of new products in the nonferrous field.
Furthermore, in order to increase customer satisfaction, we will ensure that our quality management system functions with maximum efficacy and will increase effectiveness.